Kazoos
The kazoo is a musical instrument that adds a "buzzing" timbral quality to a player's voice when the player vocalizes into it. It is a type of mirliton, which is a membranophone, one of a class of instruments which modifies its player's voice by way of a vibrating membrane.

Here are Few of the Kazoo Brands We Carry at Funky Frets •
Call for availability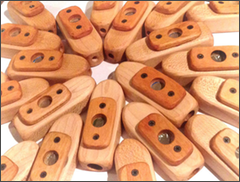 Funky Frets carries over 1000 items at its store so we might have what you need. And, we are adding new items and brands all the time.