---
Saturday
• October 3, 2020
Trinity Church, 250 Sweinhardt Rd, Boyertown, PA 19512 click here for map
Latitude: 40.322342 Longitude: -75.625069
All Day Festival, Vendors, Concerts, Workshops, Dinner with Open Mic hosted by Funky Frets
Doors Open: 8:30am
Doors open for registration and pickup your festival badges and goodies.
9:00am - 4:00pm
Vendors open and Workshops by Festival Performers .
Morning Workshop Sessions
Lunch open at TBA
Everyone is welcome to come anytime between 12:00am to 1:00pm. The Hawaiian Shirt Contest will begin at noon while people are eating. Lunch is included in your festival ticket. The Hawaiian Shirt Contest is a big hit each year.
Afternoon Workshop Sessions
Evening Dinner
Evening Dinner catered by CD's Place and Open Mic. Sign-up sheet for Open Mic will be available at morning registration.
6:00pm to 9:30pm
Evening Concert with . Interspersed with raffle drawings and giveaways.
After Concert Jam @ Funky Frets Music Store
If you haven't had enough ukulele it continues at the Funky Frets Music Store convert stage.
---
Sunday
• October 4, 2020
Strum-along Train Ride on the Historic Colebrookdale Railroad
Colebrookdale Railroad, E 3rd St., Boyertown, PA 19512 click here for map
Latitude: 40.322342 Longitude: -75.75.625069
The Funky Frets Uke Fest Strum-along on the Colebrookdale Historical Train is one of the highlights of the festival. Please arrive at 10:45 — train departs at 11:00 — you MUST bring tickets.
Train tickets are NOT available at train day of strum-along!
Strum-along train ride will be followed with a couple of workshops, picnic and a jam after the train for full ticket holders @ Funky Frets .
10:45am - Promptly arrive at Railroad station. Pack light. 11:00am: Train promptly DEPARTS
1:00pm - Train returns and meet in front of train for a group photo.
1:30pm - Immediately following lunch and Jam at Funky Frets Music Store.
A special formatted and bound train songbook will be used for the actual Strum-along Train Ride and available on the train. You can download the train book to go over the songs in advance or bring your own copy.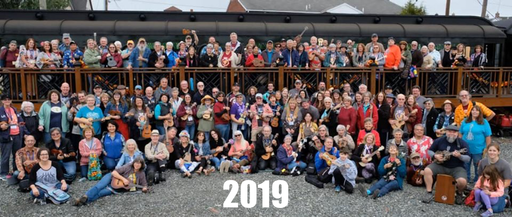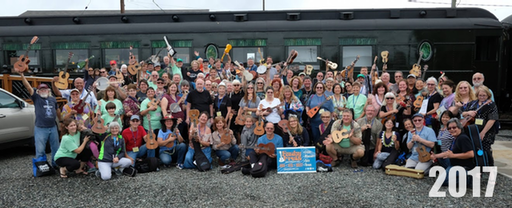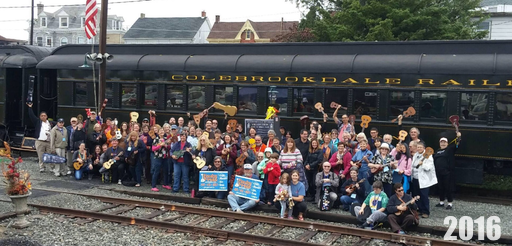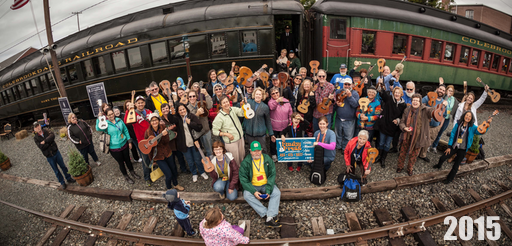 ---
Just browsing over both books, they look fantastic! I'm a guitarist and uke player for over 25 years and was thinking about writing a ukulele book but you've already written what I think are the best, most comprehensive and thorough books I've ever seen for the instrument. I just might end up buying every book you've written and I'll be giving my highest recommendation for your books to my friends and students. Thank you so much for taking the time to write such great books! — Peter Rhee
Aloha, Curt, All I can say is WOW! What you have accomplished is simply incredible! All the best — Glen Hirabayashi, The Aloha Boys
Thanks for visiting and checking out the site!

Original Curtie Animation from 1987 for my first web site on a Macintosh II, 33 years ago.
top