News
2019 Festival T-Shirt is Available For Order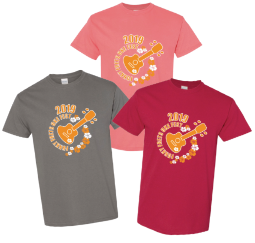 May 20, 2019
Bryan Tolentino Added to the 2019 Funky Frets Uke Fest
We are excited to add Brian to this years uke fest. I (Curt) first meet Brian almost 15 yyrs ago at the Mid West Uke Fest in Indianapolis, Indiana. He was there with the Side Order band of Briand, Chris Kamaka and Isa Young.
All the latest and greatest new regarding Funky Frets, The Funky Frets Uke Fest, and the Funky Frets family and friends.
With the largest selection of ukuleles in one location in the Philadelphia / Tri-state area, Funky Frets has become a premier ukulele destination worth the visit. And did we mention we actually a lot about the ukulele as it is not a passing fade with us.
Funky Frets is a true Mom and Pop music store - actually three generations – Curt, Bern, daughter Kelly, and the grandkids TJ and Ali.
Curt Sheller
Checkout Curt's various web sites for the latest and greatest regarding Curt.
CurtSheller.com - Curt's main site for all things Curt, The Curt Sheller Jazz Trio and Curt Sheller Publications
LearningUkulele.com - Over 600 lessons for ukulele, All major Ukulele Clubs and Festivals listing, instrument manufactures, builders and luthiers, and anything and everything regarding the ukulele.