News
View TJ's video announcement regarding the 2020 Funky Frets Uke Fest going virtual.
The Virtual festival of 2020 will take place Saturday, October 2nd, 3rd, and 4th, 2020.
NOTE: If you already have purchased your festival ticket it is good for 2021 Funky Frets Uke Fest without the price increase that is happening or 2021. You can also request a refund.
The 2020 Funky Frets "Virtual" Uke Fest will be managed using Curt's LearningUkulele.com site. LearningUkulele.com has been doing virtual lessons and content for many, many years and the site is techwise already setup to manage a virtual fest.
Funky Frets Uke Fest
The Funky Frets Uke Frets keeps getting better and better every year. And 2019 was no exception.
For the same price or less than most festivals your get a historic train ride strum-along, Sunday jam and picnic, catered lunch and dinner Saturday as well as all the standard fest items. This year was a Philadelphia theme and we kicked off Saturday's concert with none other than Philly's own historic ukulele player, "Ben Franklin" (he did play guitar for real) and some Philly Mummers to get the audience strutting their stuff without out having to wait for New Years Day Mummers Parade down Broad St. in Philadelphia. And, a lot better weather.
Checkout the Funky Frets facebook Page for all the great photos.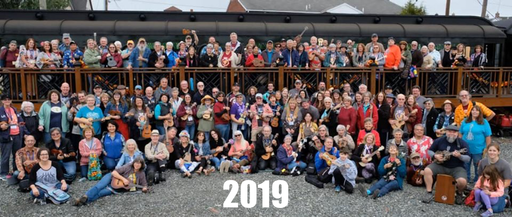 Curt Sheller
Checkout Curt's various web sites for the latest and greatest regarding Curt.
CurtSheller.com - Curt's main site for all things Curt, The Curt Sheller Jazz Trio and Curt Sheller Publications
LearningUkulele.com - Over 600 lessons for ukulele, All major Ukulele Clubs and Festivals listing, instrument manufactures, builders and luthiers, and anything and everything regarding the ukulele.
---
Just browsing over both books, they look fantastic! I'm a guitarist and uke player for over 25 years and was thinking about writing a ukulele book but you've already written what I think are the best, most comprehensive and thorough books I've ever seen for the instrument. I just might end up buying every book you've written and I'll be giving my highest recommendation for your books to my friends and students. Thank you so much for taking the time to write such great books! — Peter Rhee
Aloha, Curt, All I can say is WOW! What you have accomplished is simply incredible! All the best — Glen Hirabayashi, The Aloha Boys
Thanks for visiting and checking out the site!

Original Curtie Animation from 1987 for my first web site on a Macintosh II, 34 years ago.
top